Artículos del Blog de Tatuajes
Echa un vistazo a los artículos del blog de tatuajes creados por Koolsville Tattoo. Somos la tienda de tatuajes #1 Las Vegas con múltiples ubicaciones.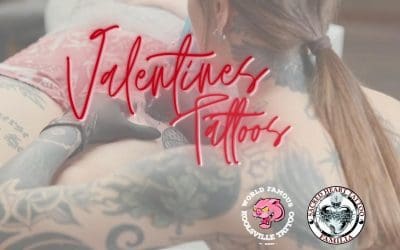 If you think that you can convince your partner to get tattoos together for valentines, our team at Koolsville Tattoo will be able to help you choose the perfect tattoo designs. If you're looking for inspiration, simply continue reading to discover some of the raddest...
Recibir Consejos de Cuidado De Tatuajes
Buscando las últimas noticias en la industria del tatuaje. Al suscribirse a nuestros boletines informativos, se mantendrá al día con algunas de las últimas tendencias. Las actualizaciones de la Convención de Tatuajes llegarán pronto. Manténgase atento a algunos materiales emocionantes de Koolsville & Sacred Heart Tattoo. Tu #1 Tienda de Tatuajes de Las Vegas y El Hogar del Tatuaje de $10.
Al suscribirse hoy tendrá nuestros Consejos de Cuidado de Tatuajes enviados directamente a su correo electrónico.
Hot Spot For A Las Vegas Tattoo Shop
HOME OF THE $10 TATTOO