Face Tattoos
Growing Popular Facial Tattoos
Face tattoos are becoming less taboo and far more mainstream than they used to be.
In fact, these days you see more people sporting face tattoos than ever before. Celebrities and musicians are often spotted with face tattoos, and this can encourage others to do the same. However, this is a spot that you can't cover up, and it will change your look significantly should you decide to go ahead. A face tattoo is not for everybody, and the decision to get one should not be taken lightly. 
More About Face Tattoos and Celebrities
You're probably familiar with many celebrities who have face tattoos. Post Malone, for example, has 'stay away' on his forehead and 'always' and 'tired' underneath each eye. Justin Bieber has a tiny cross under his eye. Other celebrities with face tattoos include Lil Wayne, Kat Von D, 21 Savage , Lil Xan, and Tekashi 6ix9ine to name just a few. 
Even simply scrolling Instagram you're likely to find a number of influencers and models who have decided to have some face ink of their own. Some celebrities, especially rappers, claim they went ahead with their face tattoos to 'force them to do some shit' – they know that with face tattoos it's tough to get a 9-5 job, and they believed a face tattoo would give them a push to start putting their work out there to help them make it big. This doesn't mean you'll automatically make it big with a face tattoo – but you'll probably end up with a lot of attention.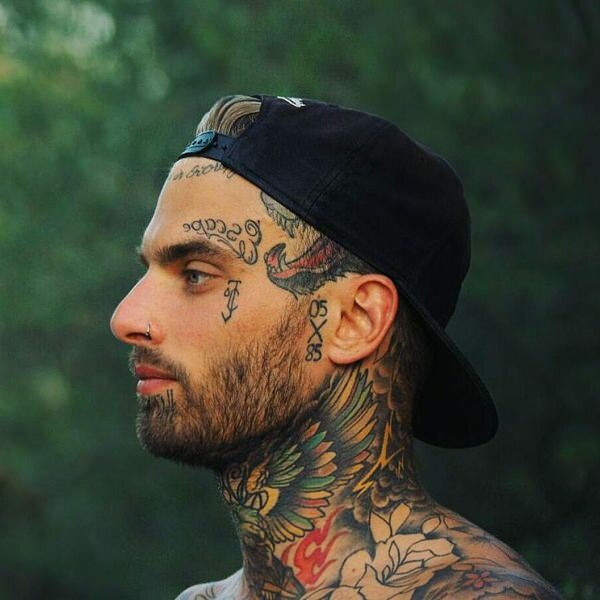 Face tattoo becoming the new norm
It can be tempting to get a face tattoo if you're favorite celebrity or rapper has one, and even more tempting when you notice they are becoming the new norm. Unfortunately, many industries still discriminate against face tattoos, as some believe them to be unprofessional. Other people may find them intimidating. Although you shouldn't live your life based on what others think, it's important to consider how you are going to be perceived and in what ways this will affect your life as it is now and how you hope it will be in the future. 
The Message Conveyed By The Face Tattoo
Probably the biggest appeal of the face tattoo is the 'IDGAF' attitude that comes with it. You're basically sending a clear message to others that you do not care what they think. The message is great – caring too much about what others think of you can feel like wearing a straight jacket at times. However, you need to consider where the desire to get a face tattoo is coming from authentically. If you're getting one because you believe others will think better of you, and you're doing it purely for egotistical reasons, you probably shouldn't get one. Although the face tattoo can convey an 'IDGAF' attitude, you might actually be getting it because you do care about what others think. 
It's also important to consider that heading out and getting a face or even a neck tattoo when you don't have tattoos elsewhere is probably a bad idea. Lots of tattooists won't simply let you skip to that part if you don't have tattoos anywhere else. A neck tattoo can give you a heavily tattooed appearance, but with a blank chest, it can look silly. It's common knowledge that some people are even just doing it to become bigger on social media, and in the long run, you'll probably regret the decision if that's why you're doing it. 
Different Types of Face Tattoo
There are different types of face tattoo, depending on your preferences. Some want a simple fine Line Face Tattoo or jawline tattoo, while others may want something more prominent, like stars or a spider's web. Some people may even decide to get multiple face tattoos. If you think that getting a face tattoo is definitely something you want to do, it might be a good idea to start with something small and simple, perhaps on your jawline or near your hairline so that you can see how you feel about it. Getting something under your eye, on your eyelids, or in another prominent position on your face right away might not be a good idea.
Finding The Right Face Tattooist
Finding the right face tattooist is imperative if you're serious about getting a face tattoo. A good tattooist will want to know your reasoning behind wanting a face tattoo. Many believe that this is an area that is a rite of passage and something that must be earned, so you can't go out one day and decide to get a face tattoo with no real reason behind it. That being said, even if you are heavily tattooed, this doesn't mean you should go out and get a face tattoo. There are some careful considerations to make first. 
Quick Checklist before tattoo
Do you have visible tattoos elsewhere? 

Are you ok with being judged and getting attention, both positive and negative?

Is this something you'll like in the long term, not just something you're into right now? 

Are you financially secure?

Do you have a job/career that allows this kind of thing, and do you expect to have a similar career in the future?

Have you found an artist that is willing to do the tattoo and has a portfolio of high quality work? 
Don't be judged by your Face Tattoo
Being judged is a fact of life whoever we are and whatever we do, and you can definitely expect to be judged when you get a face tattoo. This is why genuinely not caring about what anybody else thinks is important. You should also consider your job now and the job you expect to have in the future. A face tattoo doesn't usually compliment a 9-5 grind!
It's important to note that not every artist is willing to do this type of work. Koolsville Tattoo has face tattoo artist that is experienced with various styles of face tattoos, so if you believe you're a great candidate for a face tattoo, get in touch to discuss your ideas.