WE DO NOT ACCEPT PRE PAYMENTS !!!
World Famous Tattoos
Las Vegas Tattoo Shop
Home Of The $10 Tattoo
$10 Tattoo Flash Art
Are you looking for a creative, stylish, and amazingly affordable tattoo in Las Vegas? Look no further than our famous flash art that starts at $10!
Tattoo flash art is the perfect souvenir for your Vegas vacation. You can customize your tattoo, with colorful and bold artwork for an additional cost. Find amazing $10 tattoo flash art now and unleash your inner artist!
Hot Tattoos in Las Vegas
Roses:
If you want to get inked with a romantic design, you can't go wrong by asking your tattoo artist to ink stylized roses on your body. As an example, you may want to get two large roses inked on your back to represent yourself and your partner. Alternatively, if you already have a few tattoos you may want to use roses as the basis for an intricate tattoo sleeve. If you or your partner prefer a different flower, our skilled tattoo artists are also able to tattoo other floral designs such as sunflowers and birds of paradise. 
The King and Queen of Hearts:
These "King & Queen of Hearts" tattoos are a bold and subtle way to show your love for each other. Whether you style separately or rock them both together, these custom minimalistic designs add that perfect touch of personalization. The symbolism behind the tattoo makes it even more special and meaningful.
Chess pieces:
With a talented team of experienced artists, you know that your tattoo chest piece is in safe hands with us. Get ready to unleash your inner badass with tattoos designed just for the chest! Made with long-lasting ink and super vibrant colors, these chest tattoos are perfect for making a big statement whether you're rocking sleeveless or layered looks.
Lock and key: 
If your partner holds the key to your heart you may want to have a heart-shaped lock tattooed on your body and for your partner to get a stylized key tattooed on their body. 
Sun and Moon:
Product Description: Our sun and moon tattoo designs are perfect for those looking to express their spiritual energy. The ethereal mysteries of the visible and invisible world are embodied in these striking tattoos. Whether two moons, a crescent, or different symbols paired together, these tattoos will create a special bond between you and the universe.
Sentimental quotes:
If you have a quote or saying that has a special significance to your relationship, you'll be able to get your chosen quote tattooed on your body. You may even be interested in having your chosen quote tattooed next to a tattoo of a heart or roses. If you want to get matching tattoos, also consider half of your quote tattooed on your body and the other half of your quote tattooed on your partner's body. 
So if you're interested in celebrating Valentine's Day in Las Vegas it's well worth visiting one of our pink Koolsville Tattoo studios in order to celebrate a memorable Valentine's Day that you'll remember for the rest of your life. 

Best Reviewed Las Vegas Tattoo Shop
If you are searching for the ideal place in Las Vegas to get a brand-new tattoo, you have come to the right location. Koolsville Tattoo specializes in different tattoo styles, including realism tattoos and Polynesian. They are also known to provide a comprehensive piercing service to all their clients apart from tattooing at present.
Considered to be one of the top places in Las Vegas, Nevada to get your next tattoo. 
The Koolsville Tattoo team is highly experienced and skillful plus they are in this tattoo business for quite a few years now. You will be at 100% peace of mind comprehending that your money will not be wasted and you will get what you want once you visit the shop.
Every tattoo artist here will help you design the tattoo in Las Vegas in the best possible way. The tattoo artist will explain the entire procedure in detail so that you know exactly what you can expect in the long run.
Las Vegas Tattoo LOCATIONS
WE DO NOT ACCEPT PRE PAYMENTS!!!
Tattoos & Piercings
Want to get inked in Las Vegas? Koolsville Tattoo is the shop for you! Their experienced tattoo artist specializes in providing clients with professional and safe tattoos that will last a lifetime. With a variety of styles and types, you're guaranteed to find something that suits your taste.
Koolsville Tattoo has a long list of satisfied customers, so check out their online reviews and come see why they are some of the best tattoo artists in the city. Don't wait – let Koolsville Tattoo make your dream tattoo a reality today!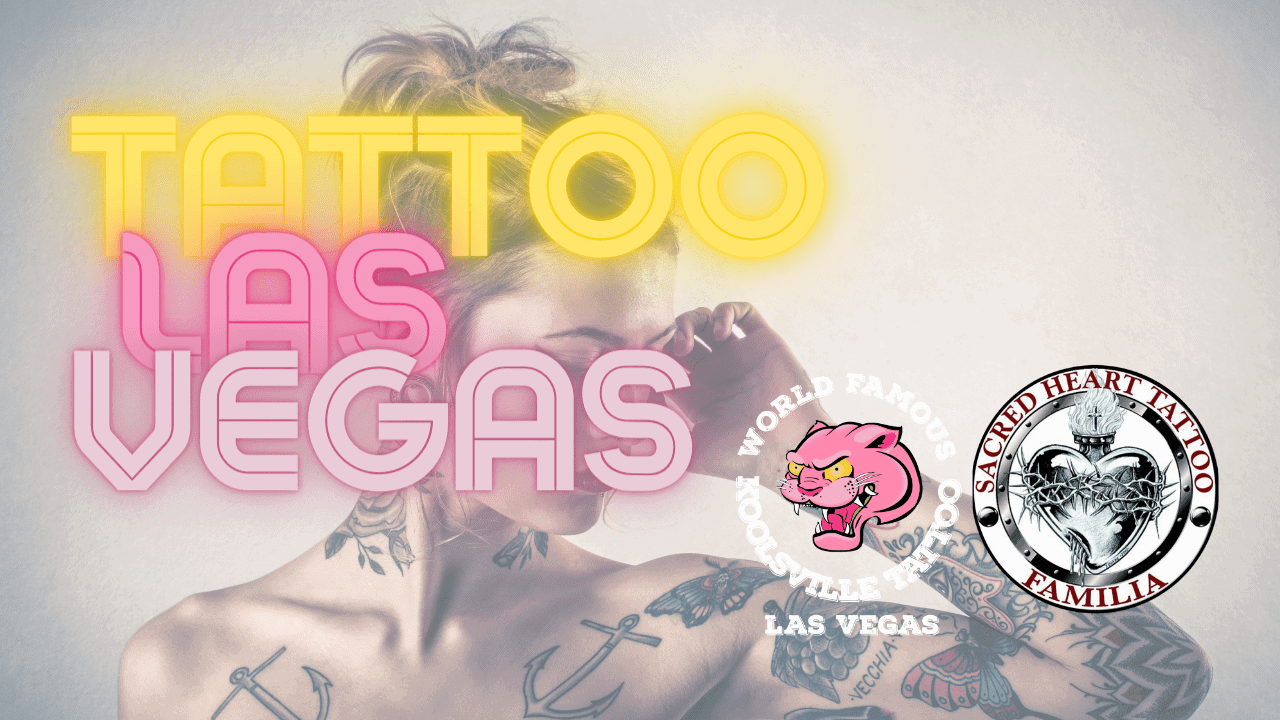 $10 Tattoos
Get stylish and affordable tattoos with our special $10 tattoo selection! This selection of designs was hand-crafted and vetted for quality, so you can confidently express yourself without breaking the bank.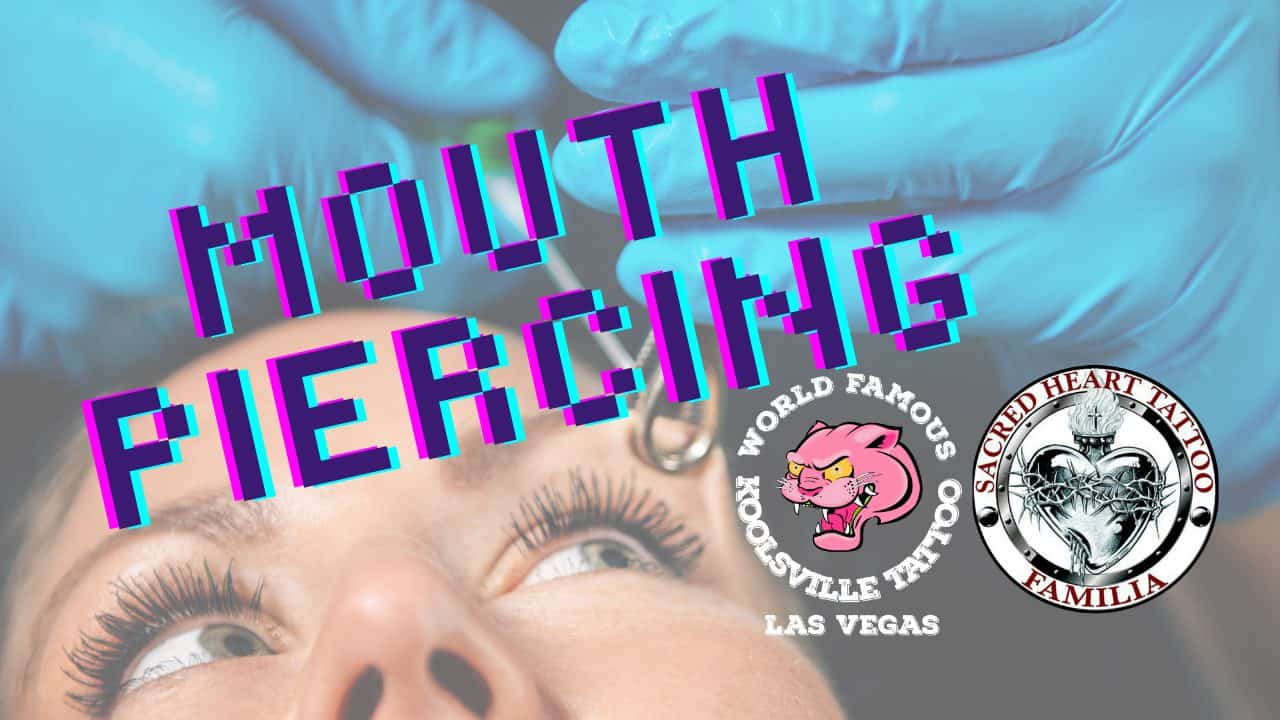 Body Piercings
Spice up your smile with these fun and fashionable body piercings! Our mouth piercings come in a range of shapes and sizes, including tongue bars, lip rings, snakebites and more. With our extensive selection you'll be sure to find the perfect piercing to make your look stand out.
Choose the Right Tattoo Shop – Tips & Tricks Guide
Want to make sure your next tattoo looks perfect? Discover our top tips and tricks for choosing the right tattoo shop!
With hundreds of tattoo shops to choose from, it can be difficult to find the one that is right for you. Luckily, we have compiled our top tips and tricks for choosing a tattoo shop near you that will give you a perfect, safe experience.
Do your research – read online reviews to get a range of opinions on the shop.
Before visiting a tattoo shop, it's important to do your research – read online reviews to get a range of opinions on the shop and its artists. Ask friends and family for recommendations, but don't just take their word – look for a range of customer experiences and make sure you are confident that the shop is the best place for your tattoo.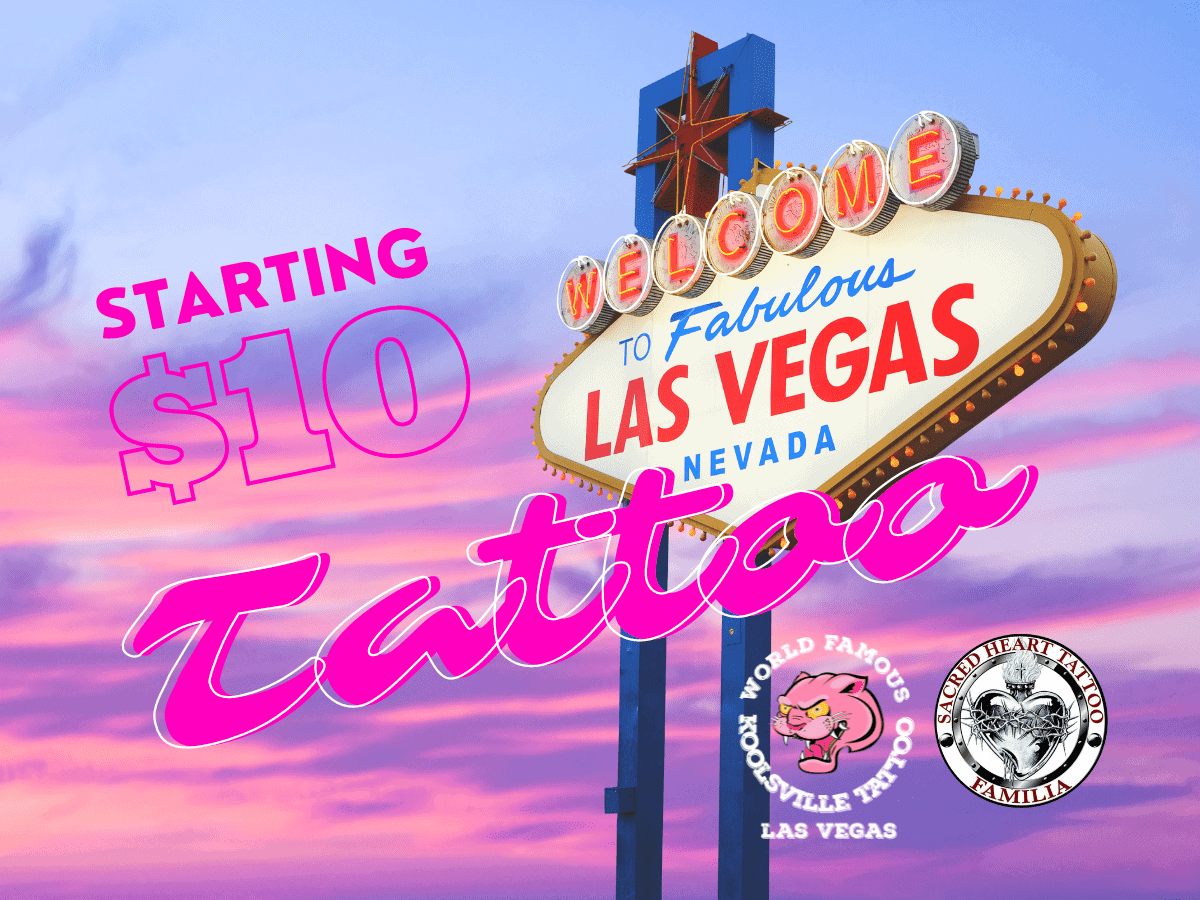 The Meaning of a Sacred Heart Tattoo
The Sacred Heart tattoo traditionally symbolizes unconditional love, devotion, and pureness of the heart. It can be seen as a spiritual representation of unconditional love, forgiveness, and martyrdom – a religious piece for all humanity showing mercy no matter what.
Whether you are getting your first tattoo or are already an avid collector, Koolsville Tattoo is the top Las Vegas Tattoo Shop and the perfect place to get your next piece of custom artwork. We have over 5,000 Tattoo Designs for you to choose from or you can bring your own. We offer tattoos starting at $10. From the mild to the wild, we can tattoo it for you!
Staying In Vegas?
Are you visiting Las Vegas and thinking about getting a tattoo? If you're looking for an affordable and quality spot, then Koolsville Tattoo has exactly what you need! With multiple locations conveniently located near the famous Fremont Street, you'll be able to find both a great location and an experienced tattoo artist to help you decide on the perfect tattoo placement.
You could even get your new ink right away, whether it's just for one night or an entire week. So, put your worries aside and come see all Koolsville Tattoo has to offer!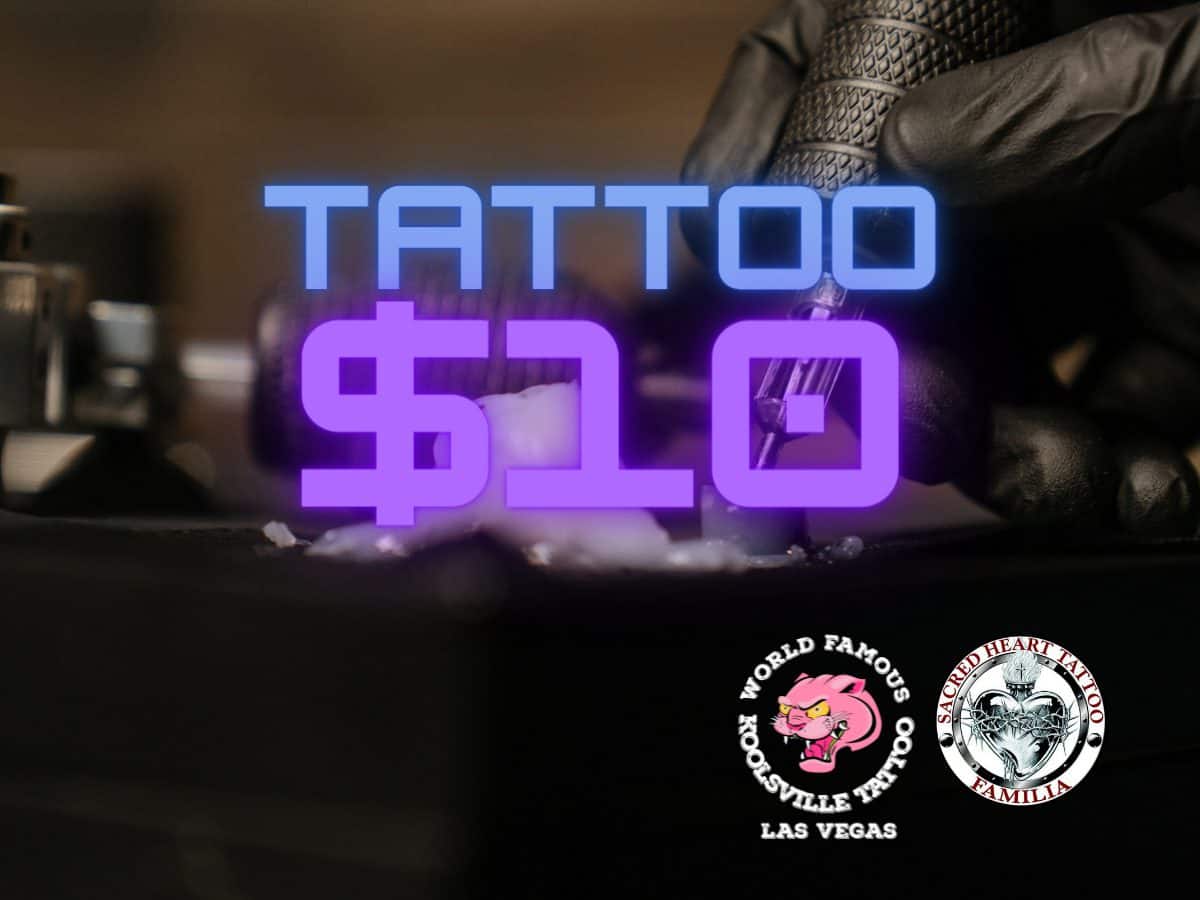 Looking for the Cheapest Tattoo Shop
A cheap tattoo usually refers to a small and simple design. These can be line drawings, symbols, or words, but generally lack the intricacy of more elaborate tattoos. These smaller tattoos are often much less expensive, from around $10 to $80.
We all know that tattoos are expensive and could start costing an arm and leg. Here at Koolsville Tattoo, our shop is built for those looking for the cheapest tattoo shop in Las Vegas. As you know we are the home of the $10 tattoo. We stick by this and won't turn you away.
We are most popular among the locals and if you are from out of town. We have six locations and you won't miss us. Look for the Pink Tattoo Shops along Las Vegas Blvd, Art District, and our new shop on Charleston Blvd.
World Famous Tattoo Legends
There is many World Famous Tattoo Legends that have passed through Las Vegas at one point in their life. We think about those Tattoo Legends who have paved the way to the whole tattoo industry.
The Tattoos collection from world-renowned tattoo legends showcases stunning pieces of art that will be admired for generations. This exquisite collection of artwork brings together the best designs and iconic pieces from some of the world's top tattoo artists, including Spain's Carlos Torres, New Zealand's Paul Booth, Japan's Hori Smoku, and more. Each tattoo is unique to the wearer – a personal reminder of a special moment or significant milestone in life. Whether you are looking for something meaningful or simply beautiful, the Tattoos collection has it all!
WE DO NOT ACCEPT PRE PAYMENTS!!!
Address
1223 S Main St, Las Vegas, NV 89102  (702) 384-3136
1501 S Las Vegas Blvd, Las Vegas, NV 89104  (702) 639-1264
1232 S Las Vegas Blvd, Las Vegas, NV 89104  (702) 477-0757
806 s Las Vegas Blvd, Las Vegas, NV 89104  (702) 384-3800
2525 North Las Vegas Blvd, Las Vegas, NV 89030  (702) 330-0765
1948 E. Charleston, Las Vegas, NV 89104   (702) 915-7666
DISCLAIMER
Last Call: see list for last appointment or walk-in session.
Monday – Thursday: 11 am – 10 pm
Friday & Saturday: 11 am – 11 pm
Sunday: 1 pm – 7 pm
Under 18?
Requirements:
Minors 16-18 yrs only!
Accompanied by parent
Parent and Minor must have matching governement ID
Birth Certificate
Hot Spot For A Las Vegas Tattoo Shop
HOME OF THE $10 TATTOO