WE DO NOT ACCEPT PRE PAYMENTS !!!
World Famous Tattoos
Las Vegas Tattoo Shop
Home Of The $10 Tattoo
Tattoo Flash Art for Sale – Unlock Your Inner Artist
With an incredible selection of tattoo flash art, you can unlock your inner artist and create the perfect design for you. Find tattoo flash art for sale now!
Looking for the perfect tattoo design? Tattoo flash art can be the answer – a collection of artwork that's colorful and bold and ready to be used in any way you see fit. Find the best selection of affordable tattoo flash art for sale now!
Hot tattoos in Las Vegas
Roses:
If you want to get inked with a romantic design, you can't go wrong asking your tattoo artist to ink stylized roses on your body. As an example, you may want to get two large roses inked on your back to represent yourself and your partner. Alternatively, if you already have a few tattoos you may want to use roses as the basis for an intricate tattoo sleeve. If you or your partner prefer a different flower, our skilled tattoo artists are also able to tattoo other floral designs such as sunflowers and birds of paradise. 
The King and Queen of hearts:
For a unique tattoo, you may want to get the king and queen of hearts tattooed on your bodies. For a subtle but meaningful couples tattoo that will attract plenty of compliments. You can even opt to get the king and queen of hearts designed to look like you and your partner. 
Chess pieces:
You may like the idea of getting stylish king and queen chess pieces tattooed onto your bodies. If you're interested in getting small tattoos or are looking to get inked for the first time, you can ask your tattoo artist to ink small chess pieces onto a discreet part of your body. Such as your ankles or wrist.
Lock and key: 
If your partner holds the key to your heart you may want to have a heart shaped lock tattooed on your body and for your partner to get a stylized key tattooed on their body. 
Sun and moon:
If you want matching couples tattoos that don't scream romance, you may want to opt for sun and moon tattoos. As our tattoo artists are able to design unique sun and moon tattoos that stand out from the crowd. 
Sentimental quotes:
If you have a quote or saying that has a special significance to your relationship, you'll be able to get your chosen quote tattooed on your body. You may even be interested in having your chosen quote tattooed next to a tattoo of a heart or roses. If you want to get matching tattoos, also consider half of your quote tattooed on your body and the other half of your quote tattooed on your partner's body. 
So if you're interested in celebrating Valentine's Day in Las Vegas it's well worth visiting one of our pink Koolsville Tattoo studios in order to celebrate a memorable Valentine's Day that you'll remember for the rest of your life. 

Best Reviewed Las Vegas Tattoo Shop
In case you are searching for the ideal place in Las Vegas to get a brand new tattoo, then you have come to the right location. Koolsville Tattoo specializes in different types of tattoo styles including realism tattoo plus Polynesian and henna tattoos too. They are also known to provide a comprehensive piercing service to all their clients apart from tattooing at present.
Considered to be one of the top places in Las Vegas, Nevada to get your next tattoo. 
The Koolsville Tattoo team is highly experienced and skillful plus they are in this tattoo business for quite a few years from now. You will be at 100% peace of mind comprehending that your money will not be wasted and you will get what you want once you visit the shop. Each and every tattoo artist right here will help you design the tattoo Las Vegas in the best possible way. They will also explain the entire procedure of tattooing in detail such that you know exactly what you can expect from them in the long run.
Las Vegas Tattoo LOCATIONS
WE DO NOT ACCEPT PRE PAYMENTS!!!
Tattoos & Piercings
So, do not hesitate and visit any of these 4 locations at the earliest. The award-winning tattoo artists of this company are adept at providing sterile, risk-free, and professional tattoo services. They take all possible measures to satisfy their clients and you will also not be an exception to that. It is an important decision to make whether you want a tattoo or not since it is a permanent thing that will last for the remaining part of your life. Come to the experts at the Koolsville Tattoo shop and get precisely what you want. If you have any doubts, feel free to look at the online reviews most of which speak highly of them.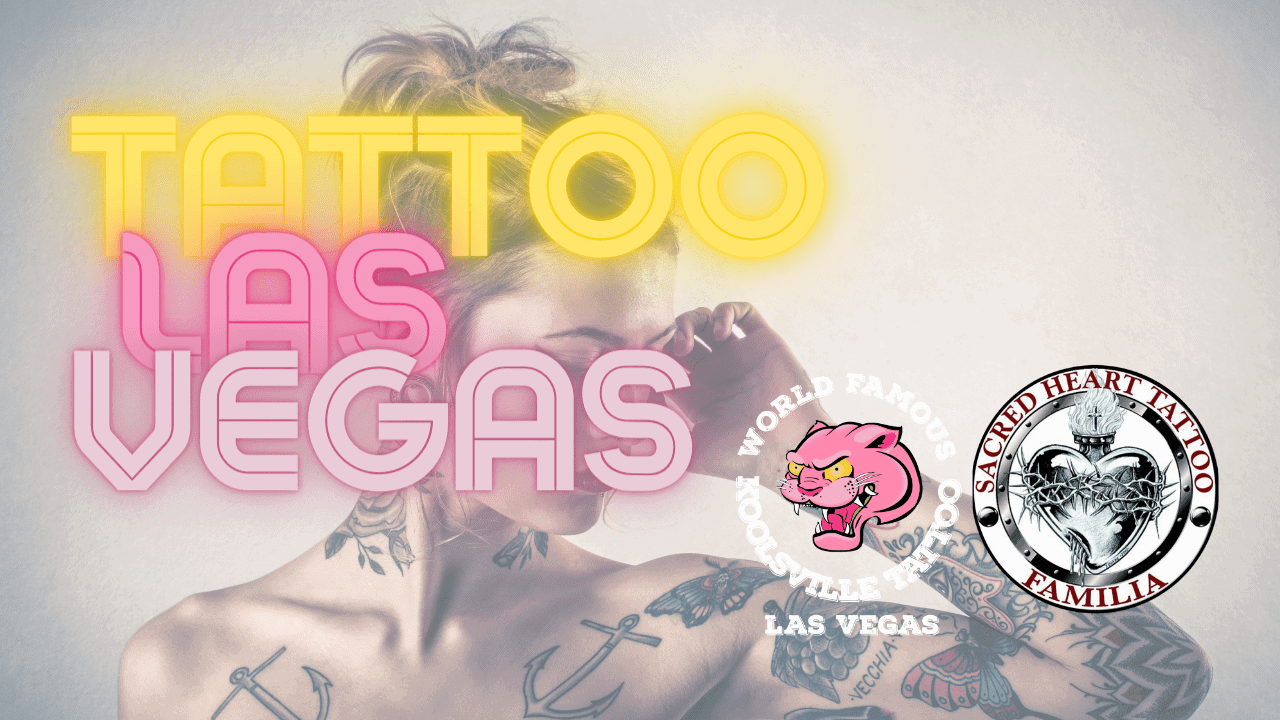 $10 Tattoos
Koolsville has more than 15 award-winning tattoo artists available to ink your masterpiece and five body piercers for all your piercing needs.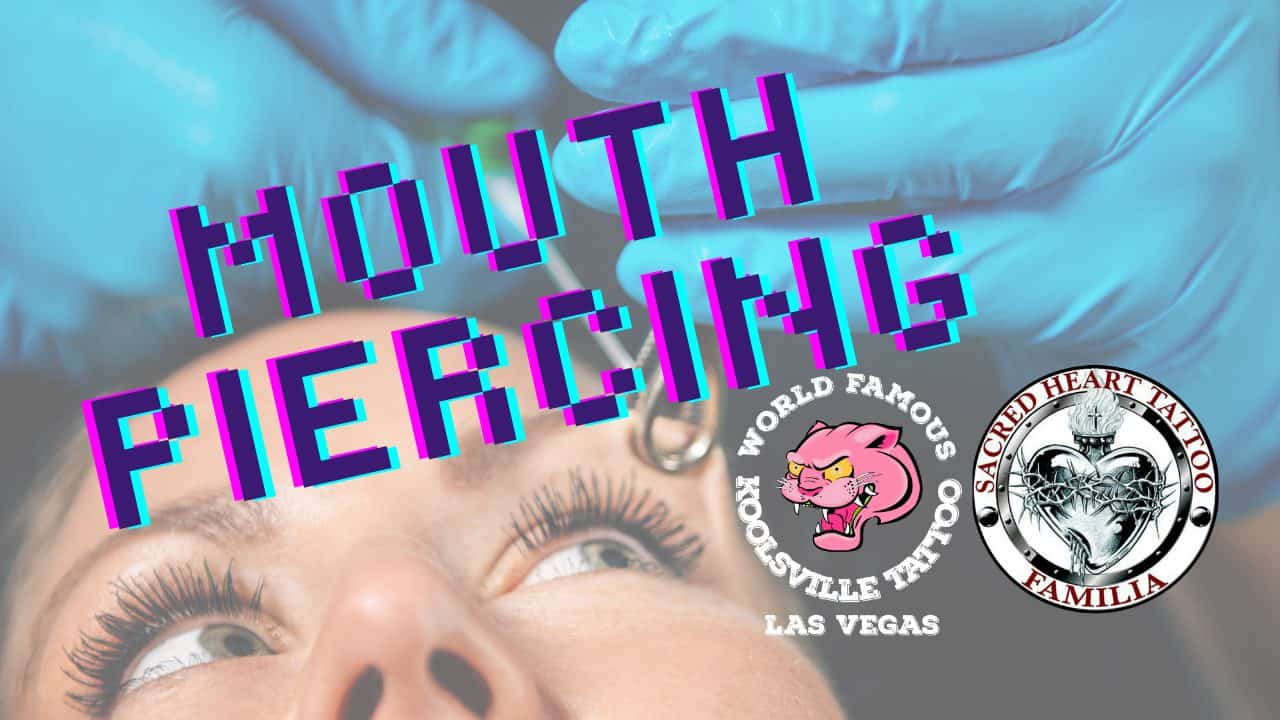 Body Piercings
We also offer body piercings starting at $10 with jewelry included. We pierce any part of the body. If it has skin, we can pierce it!
Choose the Right Tattoo Shop – Tips & Tricks Guide
Want to make sure your next tattoo looks perfect? Discover our top tips and tricks for choosing the right tattoo shop!
With hundreds of tattoo shops to choose from, it can be difficult to find the one that is right for you. Luckily, we have compiled our top tips and tricks for choosing a tattoo shop near you that will give you a perfect, safe experience.
Do your research – read online reviews to get a range of opinions on the shop.
Before visiting a tattoo shop, it's important to do your research – read online reviews to get a range of opinions on the shop and its artists. Ask friends and family for recommendations, but don't just take their word – look for a range of customer experiences and make sure you are confident that the shop is the best place for your tattoo.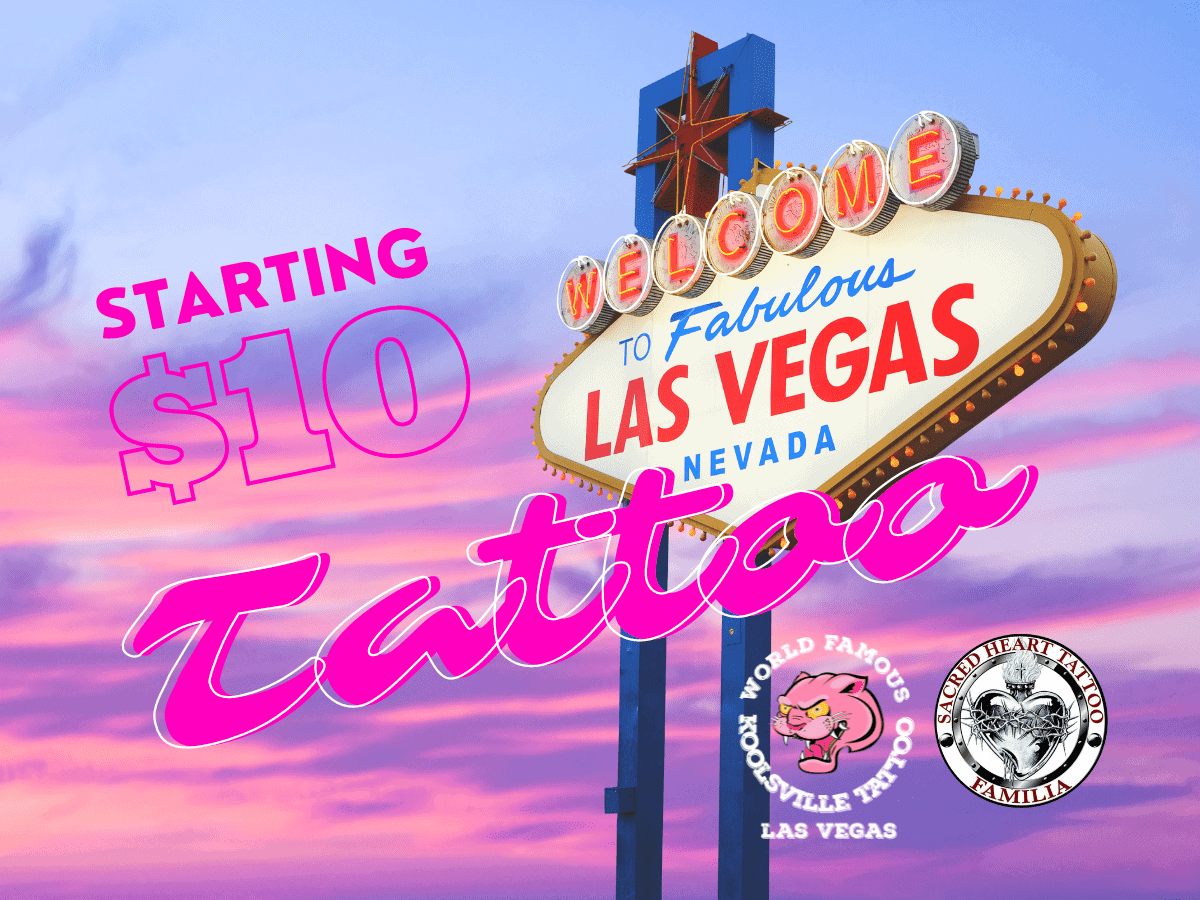 Sacred Heart Tattoo
Whether you are getting your first tattoo or you are already an avid collector, Koolsville Tattoo is the top Las Vegas Tattoo Shop, also the perfect place to get your next piece of custom artwork. We have over 5,000 Tattoo Designs for you to choose from or you can bring your own. We offer tattoos starting at $10. From the mild to the wild, we can tattoo it for you!
What Everyone Is Talking About Koolsville Tattoo
Staying In Vegas?
If you are staying in Las Vegas and looking for the perfect spot for any affordable tattoo. Make sure you know the perfect tattoo placement  before coming or you could talk to one of our experienced tattoo artist for assistance. That being said, now you have found the Home of the $10 Tattoo. With multiple tattoo shop locations throughout Las Vegas Strip, there will be a Tattoo Shop close to you.
We are walking distance from the famous downtown Fremont St. You might be staying in town for the night or a week. Stop on through to Koolsville Tattoo and book your session today.
Looking for the Cheapest Tattoo Shop
We all know that tattoo are expensive and could start costing an arm and leg. Here at Koolsville Tattoo our shop is built on those who are looking for the cheapest tattoo shop in Las Vegas. As you know we are the home of the $10 tattoo. We stick by this and won't turn you away.
We are most popular among the locals and if you are from out of town. We have four locations and you won't miss us. Looks for the Pink Tattoo Shops along Las Vegas Blvd.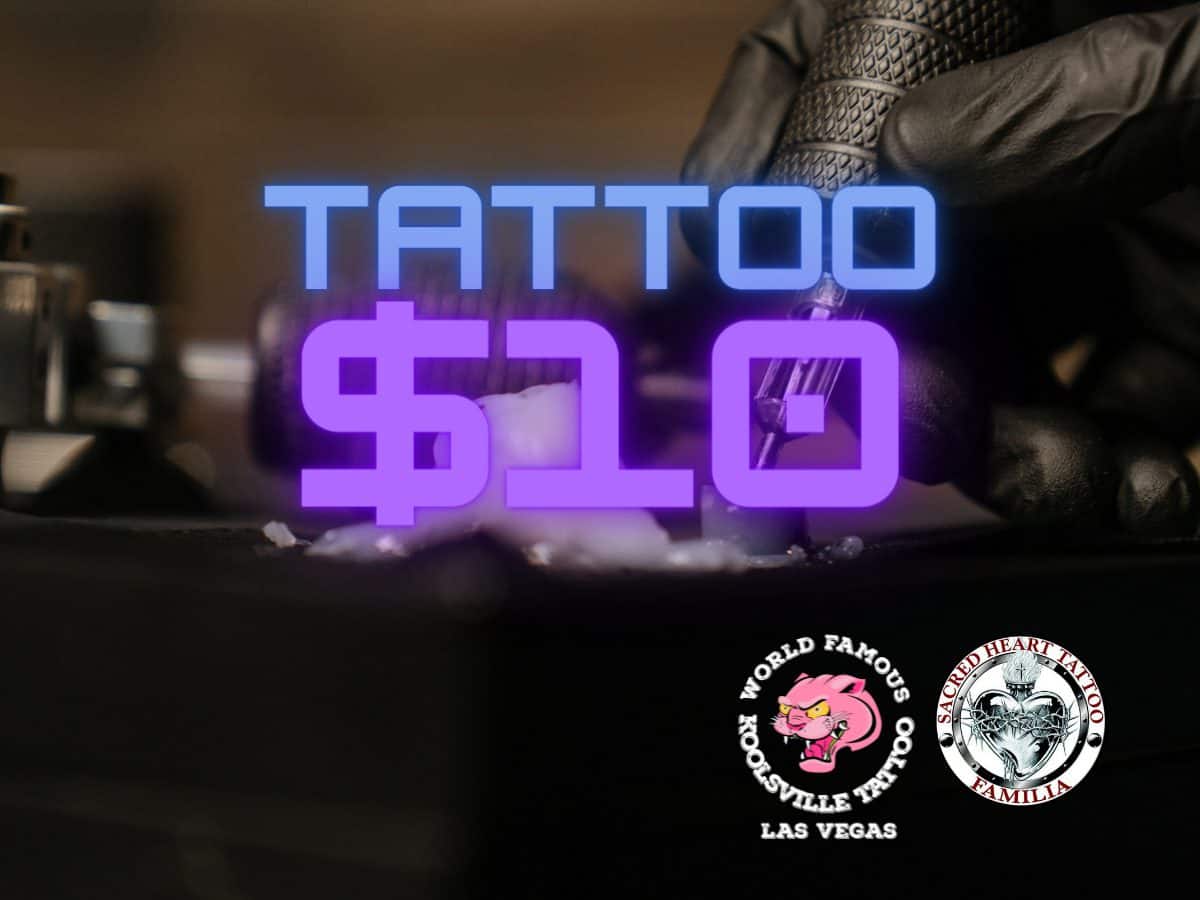 World Famous Tattoo Legends
There is many World Famous Tattoo Legends that have passed through Las Vegas at one point in their life. We think about those Tattoo Legends who have paved the way to the whole tattoo industry.
Address
1223 S Main St, Las Vegas, NV 89102
1501 S Las Vegas Blvd, Las Vegas, NV 89104
1232 S Las Vegas Blvd, Las Vegas, NV 89104
806 s Las Vegas Blvd, Las Vegas, NV 89104
2525 North Las Vegas Blvd, Las Vegas, NV 89030
DISCLAIMER
Last Call: see list for last appointment or walk-in session.
Monday – Thursday : 10:15 pm
Friday & Saturday : 11:15 pm
Sunday: 7:15 pm
Under 18?
Requirements:
Minors 16-18 yrs only!
Accompanied by parent
Parent and Minor must have matching governement ID
Birth Certificate
Hot Spot For A Las Vegas Tattoo Shop
HOME OF THE $10 TATTOO