If you think that you can convince your partner to get tattoos together for valentines, our team at Koolsville Tattoo will be able to help you choose the perfect tattoo designs. If you're looking for inspiration, simply continue reading to discover some of the raddest tattoo ideas to consider before you get inked up on valentines day. 
The raddest tattoo ideas that are trending for Valentines:
Black and white portraits:
If you're keen on the idea of getting a realism tattoo for valentines day, you can choose to get a realistic portrait of your partner on your body. As an example if you're looking for a sexy tattoo position, consider getting a portrait tattoo of your partner on the side of your rib cage. Alternatively, if your partner is keen to get inked up too, you may want to get portrait tattoos of each other on the back of your forearms. 
If you're not concerned about realism, you can also ask one of our designers to sketch up a design of your partner depicted as a pin up girl, superhero or cartoon. The options are endless. For example, you may want to get a tattoo of your partner dressed as Wonder Woman while your partner gets a tattoo of you dressed as Superman.
GPS coordinates:
For a unique valentines day tattoo why not get the GPS coordinates of the location where you first met your partner tattooed on your body? As no one but you and your partner will know the special significance behind your tattoo and you'll always be reminded of the first time that you laid eyes on your partner. You can even choose to hide your GPS coordinates within a larger tattoo design such as a sleeve.
Arrows:
If you're thinking of getting your first tattoo and would prefer a small tattoo, you may want to get a romantic arrow tattooed on your wrist, to show the world that you've been shot by Cupid's arrow. Getting matching arrow tattoos is a great idea, if you're up for getting matching tattoos as a couple. You can even opt to get a bow tattoo on your finger and for your partner to get an arrow tattoo on their finger. So that when you place your finger on top of their finger it looks as if their arrow tattoo is sitting on your bow tattoo. 
Roman numerals:
If you like the look of Roman numerals, you may want to get the year that you met your partner inked on your wrist in Roman numerals.
Boat and lighthouse:
Another rad couples tattoo idea to consider is to get a boat tattoo, while your partner gets a lighthouse tattoo. To signify that they are your lighthouse and that no matter how far apart you are, you'll always come back together.
Anchors:
If you want to remind yourself everyday that your partner is your anchor and is your number one support, it's a cool idea to get matching anchor tattoos with your partner.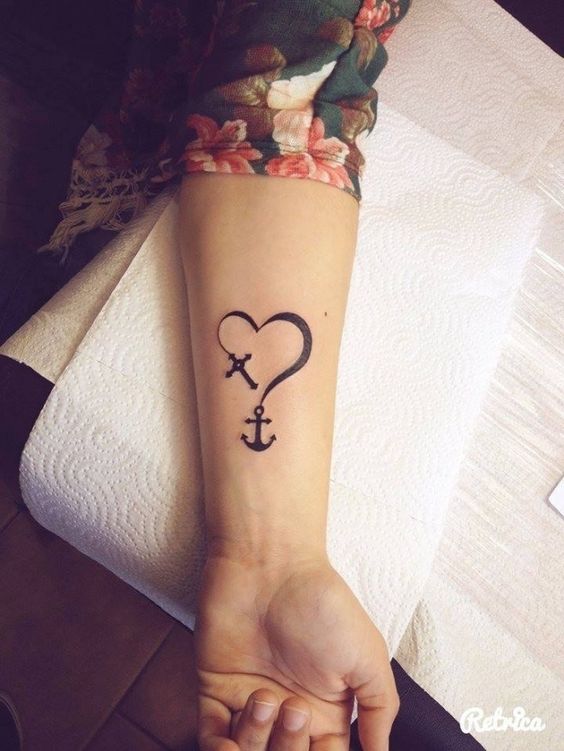 So if you're hyped about one of the rad tattoo ideas which are listed above. It's well worth visiting our passionate team of tattoo artists at Koolsville Tattoo on valentines day. As all of our locations are in pink buildings, they should be easy to find. If you still haven't found your ideal valentines day tattoo design don't worry as we'll be able to offer you more hot suggestions.